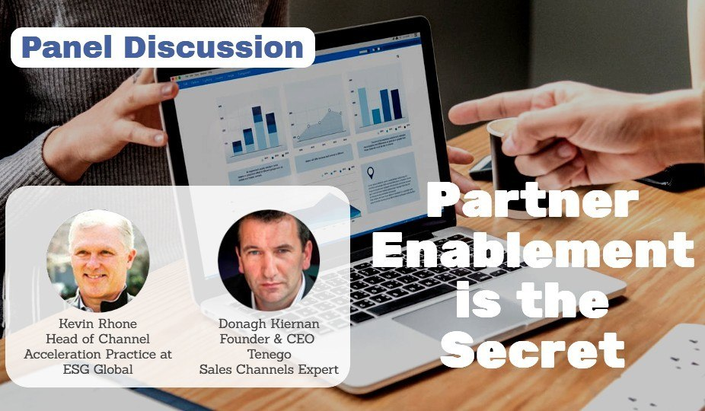 Partner Enablement is the Secret - Panel Discussion
with guest Kevin Rhone, ESG Global
Target Audience: This session is for business leaders, sales leaders, sales channel leaders in technology companies who selling through sales channels partners and seeking to improve effectiveness or performance.
The findings presented on this session are from two sources:
Microsoft ISV Partners Sales Channel Challenges Workshop

Modern Partner Enablement Trends Industry Survey
On this session, you will learn how to:
The Top Sales Channel Challenges of leading Software Product Companies

The Trends on how Resellers and MSPs want to be supported and enabled today

Applying the findings to your companies, as questioned by participants on the session

For reseller partner effectiveness, ongoing and always-on partner enablement is expected

Are trends changing on how training and support is best delivered?
"In a recent Sales Channel Challenges Workshop, with software companies at different stages, nearly 90% of the top channel challenges were related to Partner Enablement. These findings really surprised me. We need to discuss this further." - Donagh presents the findings of The Sales Channel Challenges Workshop, outlining the top 10 challenges by stage of channel maturity.
Do you have challenges in any of; Partner Education, Addressing Complexity of Sales, Communicating Your Value Proposition, Partner Commitment and Focus, Building up Trust, Joint Sales Process, Maintaining Quality in Delivery and Eliminating Service Delivery Blockages.
| | |
| --- | --- |
| In this session our guest, Kevin Rhone from ESG Global, shares findings from ESG's Industry Study on trends in Partner Enablement. - | |
"The objectives of this ESG's channel survey were to identify current trends and needs for effective partner enablement today, and determine how IT vendors should modernize their partner enablement programs and delivery from the ground up. ESG surveyed channel partners that sell into mid-size and enterprise organizations--38% IT value-added reseller, 36% managed services provider, 20% cloud services prvider, 4% national or global systems integrator, 2% local or regional systems ntegrator. Survey respondents represented small, mid-market, and enterprise companies."

In viewing this session, you will be ready to:
Review your partner training and enablement material and approach to more effective

To determine where to stop out-dated and ineffective approaches

To talk to your sales partners to determine what ongoing enablement methods will work for your product to improve performance

Seeking partners to complete many day-long bootcamp style training is a large investment on for your company and for partners.

Too much investment is spent on marketing materials that are not used partners

Partner Enablement is much more than onboarding training
View this session if you are growing your sales channels and ready to:
Revisit your thinking to create effective reseller partner relationships

Learn how the social media generation wants to be enabled>

Hear the findings in a Sales Channel Challenges Microsoft ISV Partner Event
This session covers:
Findings in Sales Channel Challenges Microsoft ISV Partner Event

The Three Pillars in Sales Channel Success

"ESG Channel Survey: Modern Partner Enablement Trends" Findings

Participant Questions
Session Duration: 35 minutes
Kevin Rhone

Head of Channel Acceleration Practice at ESG Global


ESG provide market intelligence and actionable insights to the global IT community.

Kevin helps ESG clients strengthen their partner-centric strategies, programs, and go-to-market execution. Active in the information technology industry for more than 25 years, he has extensive operating experience on a global level, and focuses on devising robust channel-growth strategies.

Prior to joining ESG, Kevin spent several years as a consultant to senior executives at Microsoft, Cisco, Dell, Citrix, and other companies concerning their partnering and go-to-market strategies, programs, and execution. Click here to access the ESG Channel Survey: Modern Partner Enablement Trends report.


Donagh Kiernan

Founder & CEO of Tenego

Donagh formed Tenego Partnering in 2003 to focus on driving sales growth within technology companies. This focus draws on Donagh's expertise in defining, selling and delivering technology solutions, and builds on over 30 years of technology development, sales and business ownership, investment and management.

With the recent launch of Tenego Academy, Donagh is actively seeking to address the needs of companies starting and growing their sales channels. Click here to review the Partnering Strategy Course bundle.